Graal,
Data: Signed; "Aqvagraal, Edward Hald, Orrefors 1958". Height; 18 cm. An unusual aqvagraal in the shape of a pear.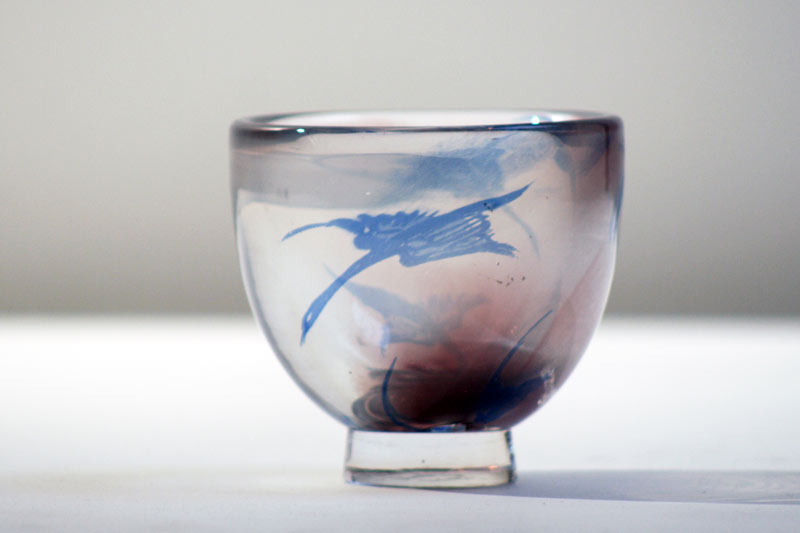 Data: Signed; Orrefors, Hald, 1936. Height; 8.2cm. Birds in blue against a background of clear and red.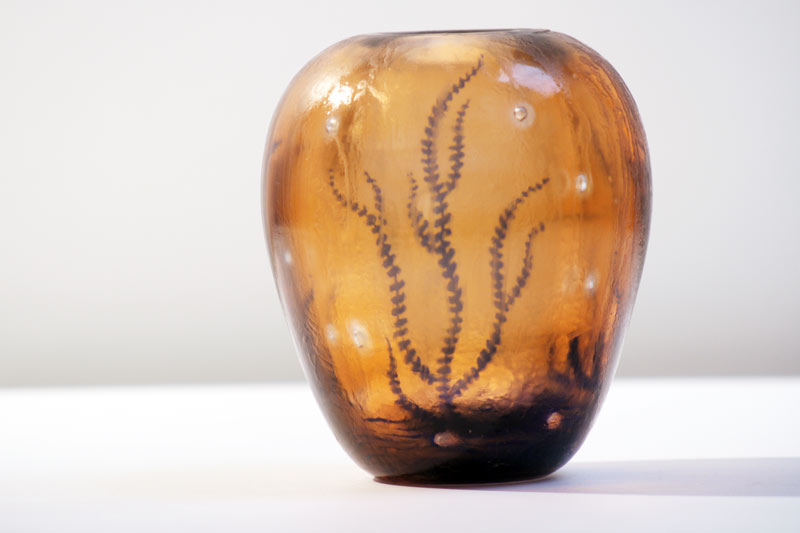 Data: Signed; Orrefors, 1937 Graal N 67, Edward Hald. Height; 16.5 cm. Motif: Blue/lilac on orange, seaweed, air-bubbles and frosted glass - a stunning and unique Hald-Graal.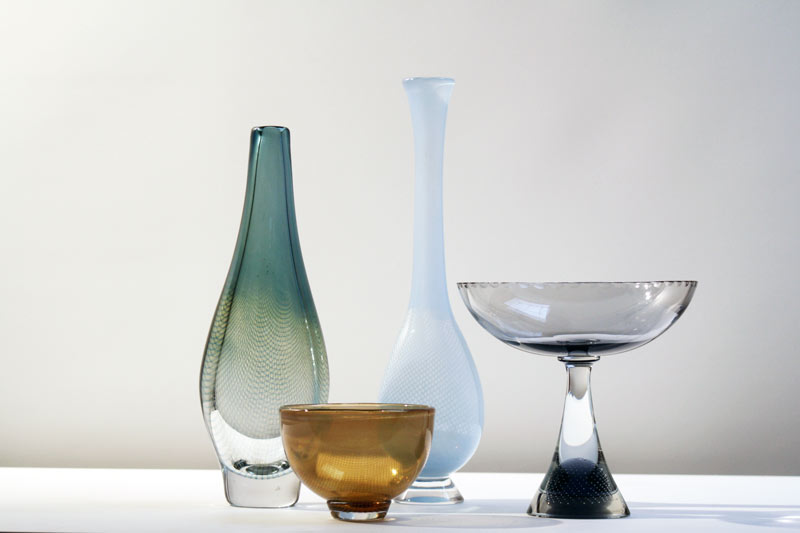 Data: Four Kraka pieces - "a maybe the best Kraka though not unique," "a maybe the best standard Kraka", "a maybe unique" and "an interesting early experiment" - that together could well make up the most complete "small" Kraka collection there is.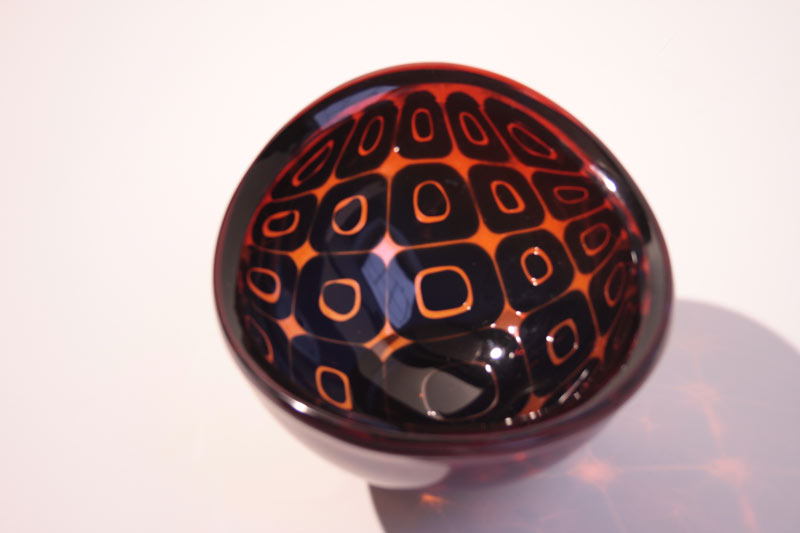 Data: Signed; Orrefors, Sweden, Ravenna, Nr 530, Sven Palmqvist. Height; 12 cm, length 23 cm. An early somewhat boat-shaped Ravenna (I believe it is a "double Ravenna).
Data: Signed; Orrefors, Sweden, Graal Nr. 1413B, E Öhrström. Height; 17 cm. Motif; Man on prancing "Picasso horse" and man's face.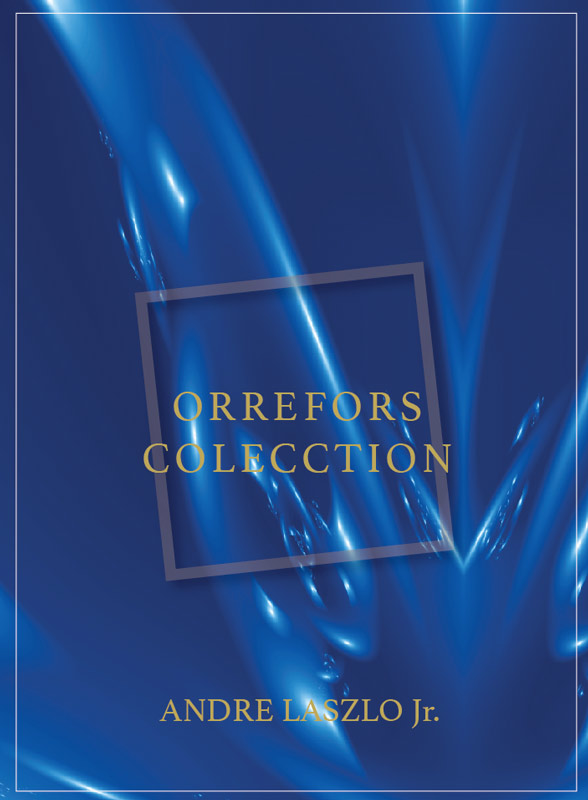 av ANDRES LASZLO JR.
Under 1980-talet blev jag övertygad att svenskt konstglas - dvs. huvudsakligen Orrefors glas från mellankrigstiden - var det (praktiskt taget) enda som vi svenskar varit bäst i världen på, och då jag insåg att utlandet ofta betalade 10 gånger så mycket som Sverige blev jag besatt av iden att skapa en fantastisk Orreforssamling. Jag försökte konkurrera med den ledande samlaren, och även om jag inte lyckades - hon var milliardär och jag en fattiglapp, åtminstone i relation till henne - så lyckades jag sätta ihop en bra samling. Många bra samlingar has sålts under det sista decenniet eller två, något som jag tror lämnar min (mycket smala) samling (möjligen med undantag för Janovs och Bishofbergers) som den bästa fortfarande i privat ägo, åtminstone vad gäller de bästa bitarna. Se Samlingen. VIDEO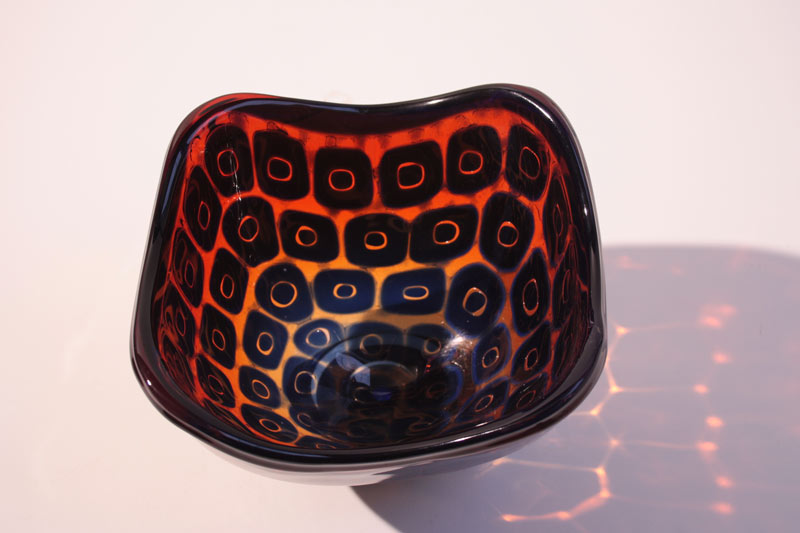 Data: Height 17 cm, width 22 cm. Signed: "Orrefors, Ravenna No 999, Sven Palmqvist. There is a small defect close to the rim.
Andres Laszlo JR.
1991 skrev jag Svensk Konstglas. Det vare en oförskämt dyr "coffee table bok" skrivet i syfte att göra mig själv rik samt "svensken" medveten om att Orrefors 1920-1950, vad gäller konst och konsthantverk, var det kanske enda som vi svenskar varit odiskutabelt bäst i världen på, åtminstone sedan vikingarnas silver och trä arbeten. Även om jag misslyckades med att göra svensken medveten om kvaliteten av dennes kulturarv, samt att detta håller på att försvinna ur landet - ett bra glasföremål på svensk auktion kommer fortfarande inte endast att sannolikt hamna i utlandet, utan också att säljas för ett oförskämt lågt pris - så lyckades boken fullgöra sin andra funktion; den blev populär, och jag har nu börjat fundera på en andra utgåva, någon form av "Svenskt Konstglas 2", och jag har gjort detta av följande orsaker: VIDEO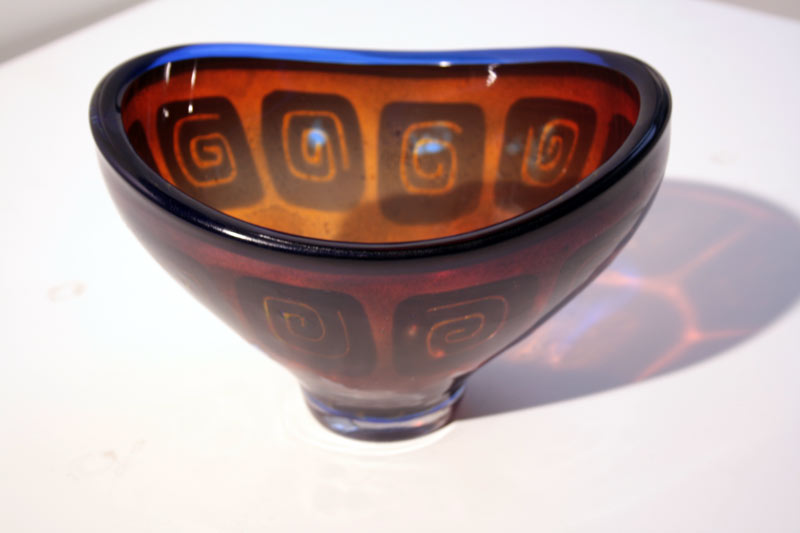 Data: Height 15 cm, width 22cm. Signed; "Orrefors, Sweden, Ravenna Nr 166 Sven Palmqvist. A boat-shaped piece with a decor of what seems a mix of @'s and what we Swedes call "löpande hund"/(leaping dogs?). I believe this is a double Ravenna.
COLLECTION TO BE SOLD OR EXHIBITED
During the 1980s I got obsessed with the idea of creating a great Orrefors collection. I tried to compete with the main actor but though I didn't succeed - she was a billionaire and I, at least relatively speaking, a pauper - I did manage to put together a good collection. Several great collections have been sold the last few decades, leaving my Orrefors collection as one of the best remaining in the private domain, at least if one is looking to the top pieces alone. My original intention was to donate my collection to Moderna Museet, but somewhere along the line, I decided to become a "no-money-man", and today I couldn't afford to do give it away. However, I would be happy to exhibit it, and come to talk (in English, Swedish, Spanish or French) about the glory of Swedish art glass 1925 - 1950 when we were best at it Please note that for exhibition purposes, my collection (19/20 pieces) is quite thin, unless you fill it out with Flygsfors Coquille (that I can provide, and that could be offered for sale). VIDEO