PACO NEVER FAILS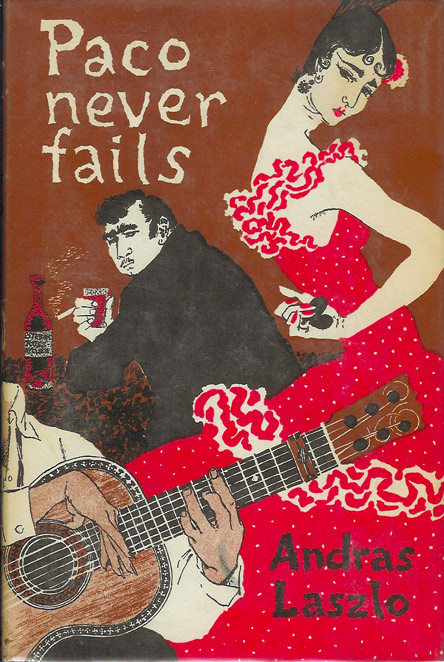 BY ANDRES LASZLO SR.
Paco Never Fails is set in Madrid – a place Andres Laszlo Sr. knows and paints well – in the early 1940s (i.e., during World War II just after the end of the Spanish Civil War). Here we meet Paco Garcia who makes his living by mating with young girls from the countryside: girls who have come to Madrid with the purpose of making a better life for themselves as wetnurses and need the milk to keep on flowing. This was at the time a real profession and the "impregnator" most likely to succeed (i.e. "never" fail became the one highest in demand. VIDEO VIDEO ON NEW MOVIE
Paco sees himself as a serious and professional man, and he is determined to justify the income he is earning from his trade in this 100% decent period drama on a subject matter that would have allowed for a wide variety of alternative approaches. However, "never fails" isn't 100% true because Paco has failed once – he has failed to grant his own wife her greatest wish, which is to become a mother – and this is a main concern. Therefore, when Maria, his wife, unexpectedly becomes pregnant, Paco's world descends into chaos. Am I really the father? The book was turned into a movie by Didier Haudepin, with Alfredo Landa starring as Paco. As I/Andres Laszlo Jr. was unhappy with the Random House translation, I have made a new. While finishing this new translation from Spanish to English, I have introduced some minor changes. Though I do not remember, I have been told that I have met the actual/real Paco, and whether it is really so or not, to him and a fair part of the inhabitants of Madrid, I dedicate this new translation/adaptation.
PACO NEVER FAILS
Original text by Andres Laszlo Sr.
Adaptation by Andres Laszlo Jr.
PART I
Francisco Garcia – Francisco León García Linares, to be more precise - was an honest and God-fearing citizen in Generalissimo Franco's Madrid of 1940. That is one possible explanation for the sudden regret that started to overwhelm him the very instant he put the revolver he had just purchased into his pocket. The cold metal that could be felt through the worn lining of his pocket deformed the crease in his trousers and made his gait awkward as it banged uncomfortably against his thigh every second step he took. Francisco slowed down his pace and immediately experienced some relief, something that he took advantage of to examine with more care the situation he was facing and his purchase. The truth was that he was already starting to regret that he had bought the weapon. He had a feeling that his bulging pocket was attracting the attention of everyone he passed and that he at any moment was about to be confronted by some upholder of the law.
When he turned the corner of the street harboring the market, he stopped, hesitating a few moments before a tavern he sometimes visited. From within he could hear the humming sound of a radio transmitter, broadcasting the daily news, as always it focused on the war. Overcome by a sudden urge, he entered the tavern, ordered a glass of wine, passed the counter and continued to the men's room at the end of the corridor.
There he took the revolver out of his pocket and examined it carefully, something he had failed to do as he purchased it. The transfer of ownership had taken place in the flea market; out in the middle of the street with a crowd of sellers, buyers and passers-by's surrounding and quite possibly observing them.
Aside from the old double-barrelled rifle he had used thirty years or so ago, Francisco García had never held a weapon in his hands, and if asked he would until a few minutes ago have answered that he never again expected to. This lack of experience was one reason why he was so clumsy when he now fiddled with the ejector rod and a cylinder that was so dirty from lack of use that it needed a lot of prodding before it let go of the cartridges inside it. He pointed the weapon at a light globe full of fly droppings that hung above the washbasin. He didn't dare touch the trigger of the old German gun until he twice had checked that there were no cartridges left anywhere inside it.
He repeated the maneuver several times, coughing noisily to camouflage the clicking of the trigger, in case the noise of the radio was not loud enough. He wrapped the revolver in his handkerchief, put the packet back into his pocket and returned to the counter where his glass of red wine was now waiting for him.
Though it was true that he felt quite exhilarated, the emotions that filled him were contradictory. His self-respect had been satisfied, as the strange youth who had sold him the weapon hadn't tricked him. Apart from the dirty chambers - that he had now cleaned out, using his handkerchief and that he planned to lubricate with a drop of olive oil - the weapon seemed to be in perfect working order, and that was good. For eighty pesetas he now held in his hands the lives of six men. Six was the number of bullets inside the rotating thing, and there was no doubt that he experienced an exhilarating feeling of increased power. What made the emotions inside him contradictory was not so much any precise feeling of having done something wrong, as a vague sensation of remorse; something that Francisco García had begun to feel only minutes after he had paid the young man. Thou shalt not kill, it's a commandment, he recalled to himself. Then he paid his wine and set off towards home and lunch.
The sun was bearing down heavily, and in the middle of the summer, there were no shadows in Madrid to offer shelter from its rays. Walking along the street the asphalt - that had been so softened by the heat that it in places had almost melted - Francisco García took great care to keep his worn-down heels from getting stuck. As every respectable Madrid male citizen of the times, he wore a black suit, a matching black tie and a white shirt with starched cuffs and collar. It was the outfit that the petit bourgeois wore, and it would have been a waste of time to try to explain to any Madrileño the inappropriateness of such apparel in the middle of the Spanish summer.
In the window of a restaurant, Paco stopped to watch a richly illustrated poster, announcing a bullfight the following Sunday. He noticed the names of the three matadors: second division toreros all of them if even that. Even the good toreros have the good sense to stay away from the Madrid heat.
"Three novices in the leading bullring of Spain, and that at the height of the season! That's simply not right!" an older gentleman standing next to him commented indignantly.
Francisco García shook his head in agreement and went on his way.
Tags: adventures, laszlo sr, wetnurse,, Alfredo Landa,, Gallimard,, impregnator,